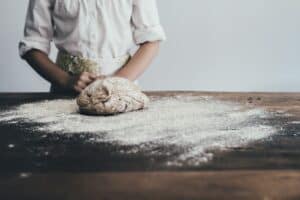 Why do I dare say this? I have been reading Eric Berne's fabulous little bestseller from 1964 entitled Games People Play and was struck by the monumental insight that 'the eternal problem of the human being is how to structure his waking hours.' Hobbies, or pastimes, are some of the best sorts of activities to help people stay sane in this day and age.
Just step away from TV, cable, or social media for a while and find yourself. Believe me, you will emerge only wiser − while still making a victorious stand 'out there' in the world.
Make baking sourdough bread your hobbyjoy. There's something incredibly satisfying about knowing that you are baking bread with nothing but flour, water, and the power of nature. Bake sourdough bread and eat it too. You have my permission.
The following YouTube video is a great primer for baking artisan sourdough bread –