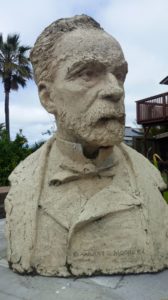 Louis Pasteur was a French biologist, microbiologist and chemist renowned for his discoveries of the principles of vaccination, microbial fermentation and pasteurization. The bronze was commissioned and is on display at UCSF medical center in San Francisco, CA.
Bust of Louis Pasteur, 1984, terracotta, 24″ tall by 17″ wide by 11″ deep.
A cast in bronze is in the collection of Kaiser Permanente Hospital, French Campus, San Francisco.