So, what is happening with all the artwork?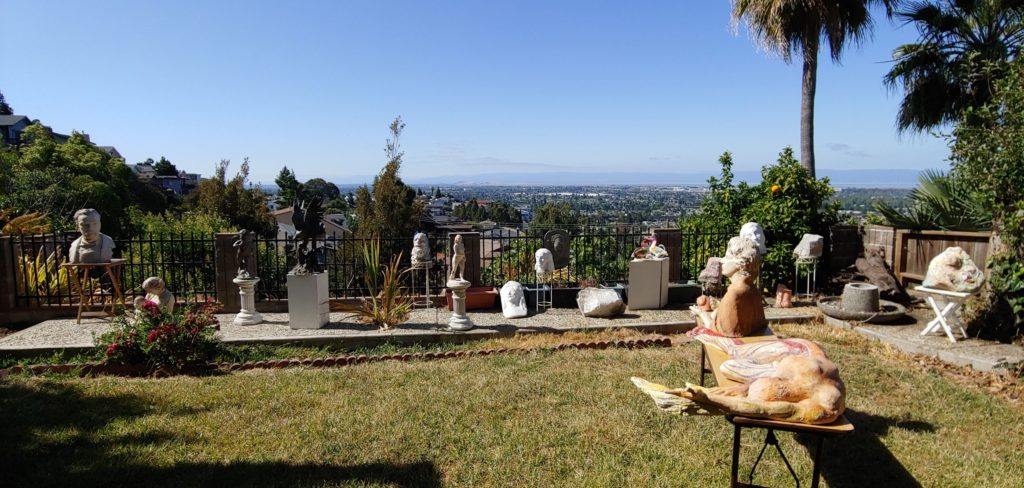 Last updated: 6/16/2018
Well, I contracted with Alan Bamberger, a San Francisco art appraiser, to come out on June 11, 2018 for a few hours and look at the art in the backyard, both the remaining sculptures and drawings.
He said that he would: "… examine all the art, make recommendations in terms of it's potential – to be exhibited, sold, donated, or otherwise transacted. We'll talk about pricing, organization, presentation, what types of incidental information might improve the "value" of the art in the eyes of the marketplace, how to get the word out about the work – both in terms of physical locations and online, etc."
So, I spent a lot of times to get all the remaining sculptures on display in my backyard and have the half-dozen boxes of drawing ready for perusal. The half-dozen or so molds are in my ExtraSpace storage. I did not bother getting them out from there and into the backyard.
Alan came by on 6/11/2018 and stayed for an hour and a half and looked at all the sculptures on display in the backyard. He spend most of the time perusing the content of the many boxes of Harriet's drawings of sorts, and looked briefly into the filing cabinet to learn how she had kept records of her artwork.
He said that her art was very good, but that she seem to have "flown" under the cover, meaning that she seems to not have worked enough on generating much publicity (name recognition, resume, etc.) as a major artist in the art community, etc. Otherwise, her art could bring in more money.
Nevertheless, he found Dante's Eagle to be impressive and said that the piece could be sold for around $3,500 to $5,000 as a great deal. Perhaps around $6,000 if time is not an issue. Likewise, the Secret Angel could be sold for $1,500 to $2,500 in a fire sale, for a little more if we were picky. The Ducks with Snakes, a Mexican motive according to Alan, could bring in some $250 for both.
Unfortunately, some of the fingers on Harriet's Self Portrait were broken off and are glued back on, another is missing. The Lion Mask must have broken years ago and glued back together with cracks visible. Mold and mildew has attacked some of the outdoor sculptures like the marble Ruth St. Denis and the terracotta Praying Man. Alan told me to not try to clean these up.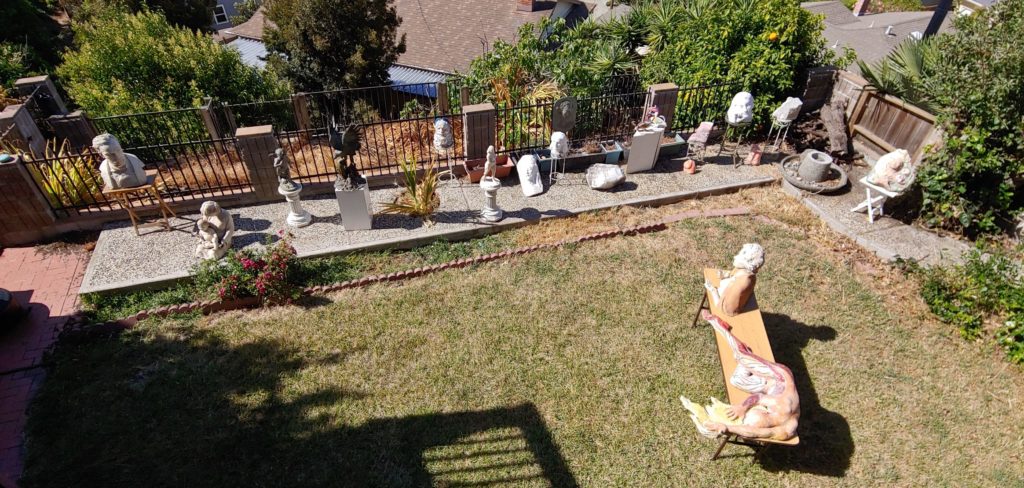 He was most interested in the pastel drawings (as he had seen some in Harriet's section on David's website) and said that some of them could bring in around $75 or $250 a pop. He mentioned eBay as a online space to sell, and discouraged me from taking things to flea markets because people's inevitable touchings of the art will destroy the art.
While in boxes, all of the drawings seem to be rather disorganized in terms of themes and/or being either finished (dated, signed, and mated), unfinished, or just studies. Many of the drawings now have tears or scratches here and there, etc. He said that it looked to him as if somebody had already gone through the drawing and took the best of them. He said that it would take a lot of time to get these remaining drawings restored and/or organized, and that he would be way to expensive as a professional to spend his time on doing that.
He found many of the drawings to be a bit on the "dark" side, and was exhausted after looking through all of them.
He said that one option would be to simply donate all or some artwork to a nonprofit (museum, etc.) and take the tax write-off. Another option is to go back to all the patrons who know Harriet, and had perhaps bought from her before. Then there is the option of selling to an auction house, for perhaps less money.
Otherwise, Alan advised me to try and find and build collections based on narratives from these drawings. He saw and suggested at least two themes. Some of the older drawings seem to go with the "late-sixties Hippie and sexual revolution" theme, others can be grouped on a "mental illness narrative." He recommended contacting the Bancroft Library (UC Berkeley) for a collection of "Hippie and sexual revolution"-themed drawings; and perhaps the California Institute of Integral Studies for a collection of "depression narrative"-themed drawings.
He said that the filing cabinet contained mostly reference materials regarding the art.
Alan also gave me a tip in regard to Google Search. He said that I should put the search term in quotes to make Google take the term literal, as well as append the term with something lime -Instagram in order to exclude Instagram images and get to original sources.
Try and type this into Google Search and go to the Image tab:
"dante's eagle" -instagram
Interestingly, pics of the Secret Angel showed up for me today. However, that is not the case when using the search phrase: "secret angel" -instagram
In any case, Alan will do a little more research on a few items found in the pile of drawings and let me know if he finds anything relevant, and he will be available if I had a few more questions. He charged me $425 for all.
Having had all that artwork around the house and in storage has not been exactly cheap for me. The house has to be big enough to accommodate the art, extra storage costs add to rent; all that is not that noticeable from month to month, but adds up over the years.
What next?
Perhaps I will scour the piles of drawings for "late-sixties Hippie and sexual revolution"-themed drawings and "depression narrative"-themed drawings, digitize them, and put them up on eBay and the likes.
Any feedback?