Erotic Candlesticks (out of stock)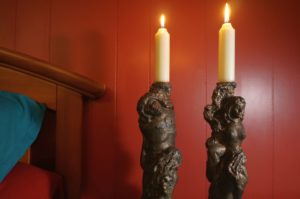 Whoa, are you over 21? Look away if you are not. Otherwise, get these candle holders as they will lighten up passions for sure.
Erotic Candlesticks, 2016, resin, bronzed and patinated, 14 inches. These sticks are produced slightly modified from the original molds to make them safer for use. As such, these candlesticks have a bit less artistic value and may primarily appeal as home decor.
OUT OF STOCK
However, custom order of sticks is available.