The magnificent eagle lifts Dante, engulfed in flames, out of Inferno. It all happened in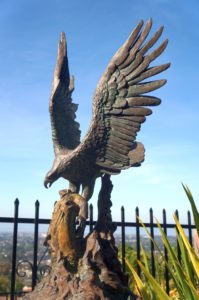 Dante's dream. But this bronze sculpture is real and could well become the anchor of a "Divine Comedy"-themed collection.
Dante's Dream of the Golden Eagle, 1980, bronze, natural patina, 35″ tall by 18″ wide by 18″ deep.
Ask: can be commissioned to be cast again in bronze.